​

Game created with: Pokémon Essentials v20.1
Game Introduction:​
Welcome to the region of Ombrosia, a mysterious territory filled with challenges and adventures for Pokémon trainers. In Pokémon: Mysteries of Ombrosia, you play as a young trainer from Havenbrook, about to graduate as a Pokémon trainer.

Your goal is to explore the region of Ombrosia, unravel its mysteries, become the best trainer, and battle the criminal teams that threaten the region.

Get ready to experience unique new adventures on your trainer journey.


Game Features:​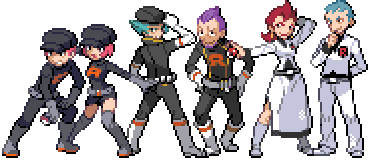 Known enemy teams included: Team Rocket, Team Aqua/Magma, Team Galactic, Team Plasma.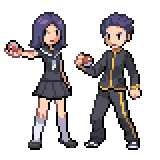 Rival characters: Alice, Max, and many other competitive trainers.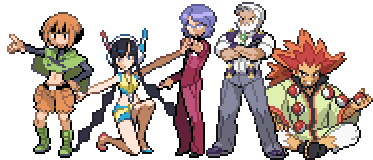 Included known characters: Gardenia, Elesa, Lucian, Drayden, Alder, etc.
In-game Content:​
Over 20 unique quests and more than 100 exciting missions.
Over 500 Pokémon to catch, including new regional forms and old regional forms.
Experience new Mega Evolutions.
Access advanced gameplay mechanics such as Terracristallization, Z-Moves, and Dynamax.
Over 200 hours of gameplay in slowrun mode for an extended adventure.
Solve puzzles inspired by the 2nd and 3rd generations.
Enjoy over 10 entertaining mini-games.
Customize EV point allocation according to your preferences.
Reward system tied to the Pokédex, encouraging complete exploration.
Use a Pokémon radar to track rare species.
Discover a reinvented and optimized Pokégear to facilitate your adventure.
Obtain and challenge the 16 gym badges to qualify for the Pokémon League.
Experience three different life periods in the Pokémon world, each with its own challenges and opportunities.
Become the Pokémon League Champion, the highest honor for a Pokémon trainer.
Challenge and win the title of Champion in your own city.
Play as the Pokémon Professor and uncover the secrets of a new region.
Participate in trials related to the mysterious Battle Island.
Enjoy the company of your own companion Pokémon.
Take part in unique contests and showcase your coordination skills.
And many more surprises to discover!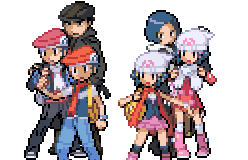 Immerse yourself in a captivating story, explore the region of Ombrosia, and become the legendary hero who will save the region from dark forces. Meet unforgettable characters, capture powerful Pokémon, and prove your worth as an outstanding trainer. Are you ready to take on the challenge and uncover the Mysteries of Ombrosia?
---CREDIT ---
Scenario created by:
ClessioTV
Director created by:
ClessioTV
Graphics created by:
Alucus
Kyle Dove
Dewitty and CNC
zetavares852
princess-phoenix
TheFloofyPanthar
Warpras
Phyromatical
Alex and Ace
Thurpok
Lightbulb15
DonLawride
KingTapir
Candii
Reborn and Rejuvenation Developer Teams
Appletun's Apples
LMicolash
Neo-Spriteman
VanillaSunshine
PurpleZaffre & Maicerochico
AtomicReactor
Coffee Cup
Poltergeist
DiegoWT
EzBound
MufasaKong
PurpleZaffre
Mr. Gela
Zygoat
Prodigy3332
GAME FREAK
Level Design:
ClessioTV
SkydoolTV
Mapping created by:
ClessioTV
Music:
ENLS
Thundaga
YTKrakerwat
Sulucnal
Programming created by:
ClessioTV
Achievements System:
Mega Mewthree
Vendily
Gardenette
Auto Multi Save:
http404error
Automatic Level Scaling:
Benitex
Joltik
Umbreon
Bag Screen w/int. Party:
DiegoWT
Battle Card:
sorryjzargo
BerryPots for Essentials:
Caruban
BW Gender Selector:
KleinStudio
DeepBlue PacificWaves
TechSkylander1518
BW Key Items:
KleinStudio
DeepBlue PacificWaves
Izanagi
BW Party Screen:
DeepBlue PacificWaves
Shashu-Greninja
Golisopod User
BW Storage System:
DeepBlue PacificWaves
BW Summary Screen:
DeepBlue PacificWaves
Tommaniacal
Lucidious89
Weibrot
Kobi2604
Dirkriptide
Ploaj
Mr. Gela
Shashu-Greninja
Golisopod User
BW Text Entry:
Shashu Greninja
X-TERRA
DeepBlue PacificWaves
Erassus
Cable Club:
mGriffin
Khaikaa
Vendily
Charm Case:
Dr.Doom76
Wrigty12
TechSkylander1518
LinKazamine
DiegoWTs Starter Selection:
DiegoWT
Egg Sprite per Group:
FL
Encounter List UI (v20):
ThatWelshOne_
raZ
Marin
Maruno
Nuri Yuri
PurpleZaffre
Savordez
Vendily
Enhanced UI:
Lucidious89
Ball Sprites: Poq and BlueEye007
Essentials Deluxe
Lucidious89
Fly Animation by KleinStudio Updated By A.I.R:
KleinStudio
A.I.R
Following Pokemon EX:
Golisopod User
Help-14
zingzags
Rayd12smitty
Venom12
mej71
PurpleZaffre
Akizakura16
Thundaga
Armin (Fairies Resource Pack)
Maruno
Generation 8 Pack Scripts
Battler Sprites:

Gen 1-5 Pokemon Sprites - veekun
Gen 6 Pokemon Sprites - All Contributors To Smogon X/Y Sprite Project
Gen 7 Pokemon Sprites - All Contributors To Smogon Sun/Moon Sprite Project
Gen 8 Pokemon Sprites - All Contributors To Smogon Sword/Shield Sprite Project

Overworld Sprites

Gen 6+ Berry Tree Overworlds - Anarlaurendil
Gen 6 Pokemon Overworlds - princess-pheonix, LunarDusk, Wolfang62, TintjeMadelintje101, piphybuilder88
Gen 7 Pokemon Overworlds - Larry Turbo, princess-pheonix
Gen 8 Pokemon Overworlds - SageDeoxys, Wolfang62, LarryTurbo, tammyclaydon
Gen 1-5 Pokemon Overworlds - MissingLukey, help-14, Kymoyonian, cSc-A7X, 2and2makes5, Pokegirl4ever, Fernandojl, Silver-Skies, TyranitarDark, Getsuei-H, Kid1513, Milomilotic11, Kyt666, kdiamo11, Chocosrawlooid, Syledude, Gallanty, Gizamimi-Pichu, 2and2makes5, Zyon17,LarryTurbo, spritesstealer, LarryTurbo

Icon Sprites

Gen 1-6 Pokemon Icon Sprites - Alaguesia, harveydentmd
Gen 7 Pokemon Icon Sprites - Marin, MapleBranchWing, Contributors to the DS Styled Gen 7+ Repository
Gen 8 Icon Sprites - Larry Turbo, Leparagon
Shiny Icon Sprites - StarrWolf, Pokemon Shattered Light Team

Cry Credits:

Gen 1-6 Pokemon Cries - Rhyden
Gen 7 Pokemon Cries - Marin, Rhyden
Gen 8 Pokemon Cries - Zeak6464

Script Credits:

Golisopod User, Luka S.J.

Compilation of Resources:

Golisopod User, UberDunsparce
Generation 9 Pack:
Script Gen 9 and Adapting PLA for v20:
-Caruban
-Lucidious89
-Eskiss (Legend Plate script based on)


PBS for Gen 9:
-Caruban
-PorousMist (Updated the abilities, items, and moves description)
-DJChaos (TM Items)
-Futuresushi (Shortened abilities and moves description)


Pokemon Gen 9 Battler Sprites:
KingOfThe-X-Roads, Mak, Caruban, jinxed, leParagon, Sopita_Yorita, Azria, Mashirosakura,
JordanosArt, Abnayami, OldSoulja, Katten, Divaruta 666, Clara, Skyflyer, AshnixsLaw


Pokemon Gen 9 icons:
ezerart, JordanosArt


Pokemon Gen 9 Followers:
Azria, DarkusShadow, EduarPokeN, Carmanekko, StarWolff, Caruban


Pokemon PLA and Gen 9 Footprints :
Caruban


Pokemon Gen 9 Cries:
Edited from Lightblade Absol's Gen 9 Cries compilation video
Edited from HeroLinik's Pokemon Scarlet and Violet - Walking Wake and Iron Leaves Cries video


Gen 9 item icons:
-lichenprincess (Tera Orb, Bamboos, Tera Shards, Mirror Herb, Loaded Dice, Leader Crest, and Kubfu Scrolls, Booster Energy, Gimmighoul coin, TM Material, Kofu's Wallet, Sandwich, Herba Mysticas)
-Caruban (Punching Glove, Auspicious Armor, Malicious Armor, Ability Shield, Clear Amulet, Covert Cloak, Scarlet&Violet Book)


Original Pokémon: Legends Arceus Expansion Script :


PLA item icons :
AztecCroc, 3DJackArt, Caruban, lichenprincess


Pokemon cries ripped:
-Morningdew


Pokeballs battle animation and summary icon:
-Caruban
-WolfPP (Beast ball battle animation)


PLA Pokémon icons:
LuigiTKO


PLA Followers:
Boonzeet, DarkusShadow, princess-phoenix, Ezeart, WolfPP


PLA Sprites from Smogon Gen8 Sprite Project :
Blaquaza, KingOfThe-X-Roads, KattenK, Travis, G.E.Z., SpheX, Hematite, and SelenaArmorclaw
HGSS Options Screen:
Richard PT for the original image for the background.
LinKazamine and bo4p5687 for editing the image and the options script.
Item Crafter UI Plus:
ThatWelshOne_ for the original script
Vendily
Improved Field Skills:
Lucidious89
Improved Item Text:
Maruno
Lucidious89
Improved Mementos:
Lucidious89
Infinite Save Backups:
DemICE
http404error
Level Based Mixed EV System and Allocator:
DemICE
Location Signposts with Background Image:
PurpleZaffre
LostSoulsDev / carmaniac
Golisopod User
ENLS
spaceemotion
TechSkylander1518
Mining Game Mouse:
TechSkylander1518
Modern Quest System + UI:
ThatWelshOne_
mej71
derFischae
Marin
Overworld Shadows EX:
Golisopod User
Wolf PP
Marin
Pokegear Themes:
Jackster for ripping the images from HGSS.
CynderHydra for the base code for multiple-column buttons.
LinKazamine for the plugin and editing the images.
Prize Wheel:
Marin
Krom Stern from stackexchange
Flylib.com
AiurJordan
ThatWelshOne_
Ganz/Webkinz
TechSkylander1518
Speed Up:
Marin - for the original Better Speed Up script
Phantombass - updating the script to Essentials v19.1
Terastal Phenomenon:
Lucidious89
wrigty12
Unown Report:
Maruno (for the Pokegear script)
Richard PT (Graphics + Unown Report script based from the Pokegear script).
v20.1 Hotfixes:
Maruno
Voltseon's Pause Menu:
Voltseon
Golisopod User
ENLS
Watch in the Pokégear Menu
FL
ZUD Mechanics:
Lucidious89
"Pokémon Essentials" was created by:
Flameguru
Poccil (Peter O.)
Maruno
With contributions from:
AvatarMonkeyKirby<s>Marin
Boushy<s>MiDas Mike
Brother1440<s>Near Fantastica
FL.<s>PinkMan
Genzai Kawakami<s>Popper
Golisopod User<s>Rataime
help-14<s>Savordez
IceGod64<s>SoundSpawn
Jacob O. Wobbrock<s>the__end
KitsuneKouta<s>Venom12
Lisa Anthony<s>Wachunga
Luka S.J.<s>
and everyone else who helped out
"mkxp-z" by:
Roza
Based on "mkxp" by Ancurio et al.
"RPG Maker XP" by:
Enterbrain
Pokémon is owned by:
The Pokémon Company
Nintendo
In association with Game Freak
This is a fan-made, non-profit game.
No copyright infringement is intended.
Please support the official games!
BETA 0.9.8.3 IS NOW AVAILABLE!

​
Version: 0.9.8.3
Addition of two new Mega Evolutions (Obtainable/Hoenn).
Addition of the conclusion of the Ultra Beast storyline (Hoenn).
Addition of several maps.
Correction of the trap house.
Correction of the scientist trainers (Hoenn).
Correction of the Speed statistics of Mega Feraligatr.
Preloading of the map for the continuation of the storyline.
Version: 0.9.8.2
Correction of the text in the bag
Version: 0.9.8.1
Addition of Mega Evolutions for: Meganium, Feraligatr, Typhlosion (Not obtainable by the player at the moment)
Addition of the challenge "Trick House" (Route 110)
Addition of images for the item: Krookodilite
Addition of the main storyline: Research VIII
Addition of new abilities for the Chikorita line (Fairy)
Addition of two new areas
Preloading of new areas
Correction of certain collisions
Correction of the English translation
Version: 0.9.8
Addition of a new side quest
Addition of a new mega evolution
Addition of a new mega stone
Addition of numerous events in the zones
Addition of trainers on the map
Correction of certain maps
Correction of certain maps
Pre-loading of mini-game zones
Additional translation
Last edited: