After game jamming for a solid month and posting an endless stream of images about it on Twitter, here I am!
You wake up in a Pokémon Center in the middle of a hurricane and can't remember a thing
classic amnesia trope is overused, you say? go away
. You pick your starter and run around the completely, undeniably and 100% fictitious region of New Jersey trying to piece together what happened before you zonked out (if you don't get it there's an NPC who beats you over with the head with everything at the end). Oh, and Team Aqua is bumbling around, and they don't seem to like you very much.
- Default Pokémon Essentials graphics set (with only a few minor changes)
- Decent amount of map verticality
- Weather wars
- Five to seven-ish hours of gameplay, depending on how fast you can read, how much you feel like exploring and how good you are at Pokémon
- There are a couple Pokémon Gyms but none of the leaders are home
- Zany Super Mario font on the title(s)
- Seventy, eighty, I forget exactly how many Pokémon
- Jokes at the expense of Delaware
- Trainers level with you
it was easier than balancing it myself okay?
- Choose your difficulty (sort of)
- Questionable decisions by the protagonist
- Lots and lots of piano midi
- Two endings (sort of)(please don't just restart if you lose a battle)(especially the second-to-last one)
- Some other things
You'll have to forgive the jpegginess, I forgot to save screenshots while I was playtesting so these are (some of) what I posted on Twitter.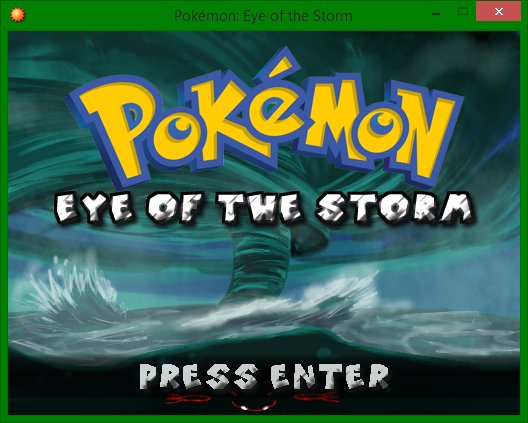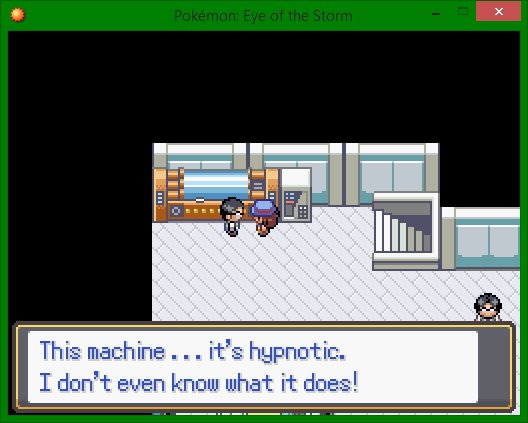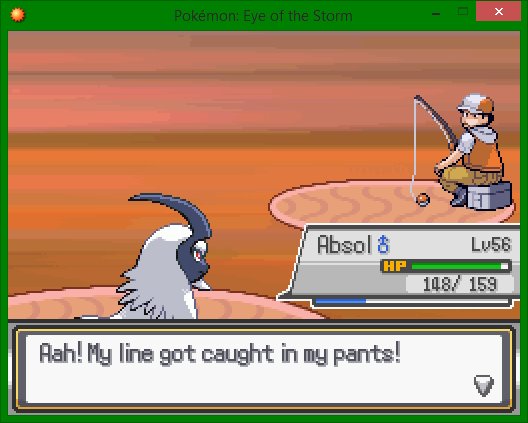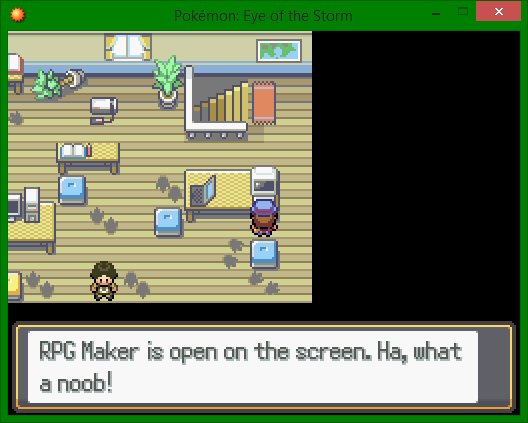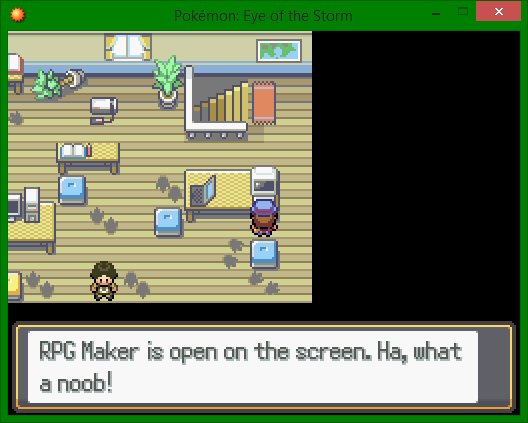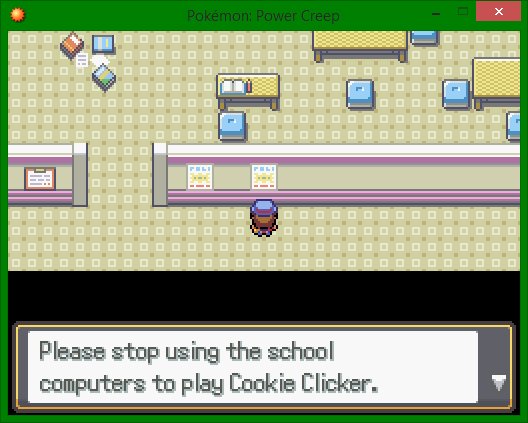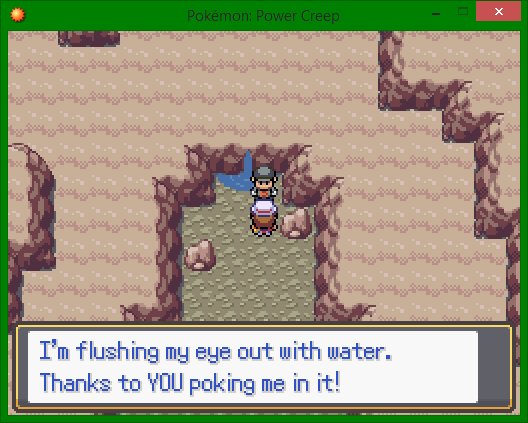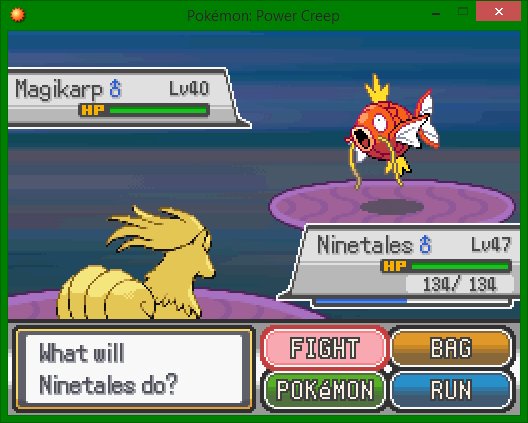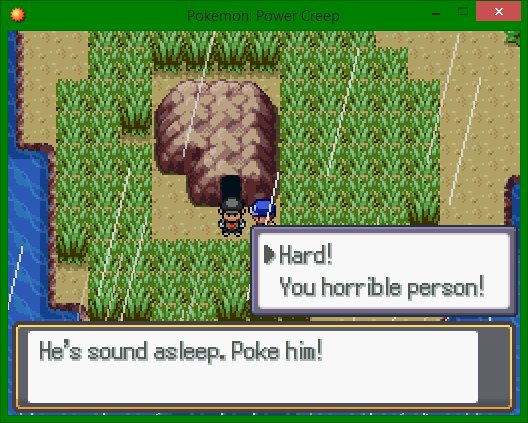 I'm pretty sure I got rid of all of the game breaking things, most of these are purely aesthetic. Aesthetical. Whatever. Also listing some potential turn-offs that aren't strictly logical errors.
- Some of the maps don't have proper borders. Mainly due to the fact that I didn't pay attention to this until it was too late, and sort of burnt out when I went back to fix this.
- There's a major plot point near the end but if you talk to most of the NPCs afterwards they won't seem to notice that it happened.
- I think I got rid of all of the stub NPC dialogue or items in the game but there may still be one or two here or there (if you find it, you'll know).
- Some of the routes may seem a bit barren and there may be some things that appear to be there for no reason. Those are probably there because I originally had plans for something else but, again, burnt out (technically there's still time for this since I'm submitting ahead of the deadline but honestly I don't even want to look at RPG Maker anymore).
- The Delaware jokes get old after a while.
- Will try to fix any major problems that come up but, again, I'm pretty done with RPG Maker for a good long while.
Game
(1.0.2)
Windows only. Unzip, double click and pray that it works.
Still paranoid that y'all are going to click the executable and all hell is going to immediately break loose. Speaking of which, it occurs to me that I should probably have some sort of changelog so people can know if their specific issues have been fixed yet.​
1.0.2
Did a bunch of stuff, based on important feedback.
A bunch of spelling and typographical errors
Changed the Town Map so that it shows your current locations
Fixed a few tile errors and geographical features
Enabled the title screen in Debug Mode
Turned "Move Animation" on for some of the NPCs that appear to slide across the floor (but I probably missed a bunch)
What I didn't do:
Get rid of the black borders around certain areas
Add Pennsylvania to the Town Map
Add more NPCs to the Pokémon Centers and Pokémarts. My writer's a little busy atm but I'll make this a priority of the 1.0.3 update, whenever that happens.
1.0.1a
- forgot to include the PBS files in the "normal" version. Oops.
1.0.1
- fixed a wee sequence breaking eventing screw-up near the end of the game.
1.0.0
- first attempt at floating the game out on the Internet
Is it sufficient to copy and paste that one Scene_Credits wall of text? No, right?
Most stuff:
Dragonite/DragoniteSpam/Dragonoob/whatever
Most story, some sprite recolors, the map, a bunch of other things:
Enkii Muto/Kyon/MuninMunin/he has a lot of names
Music resources/tools:
http://www.ninsheetmusic.org/
, GBAMusRipper, Sekaiju, the bit of DS homebrew that lets you rip GBA ROMs
Title font:
It's called "
Pipe Dream
" and I don't even know why I've taken a liking to it.
Help:
Mashirosakura, Epic, Deo, Relic Castle, the wiki, the Internet in general
I hope I didn't forget anything.
Pokémon Essentials:
Flameguru, Poccil, Maruno; AvatarMonkeyKirby, MiDas Mike, Boushy, Near Fantastica, Brother1440, PinkMan, FL., Popper, Genzai Kawakami, Rataime, Harshboy, SoundSpawn, help-14, the__end, IceGod64, Venom12, Jacob O., Wobbrock, Wachunga, KitsuneKouta, xLeD, Lisa Anthony and many others
RPG MAKER XP:
Enterbrain
Last edited by a moderator: