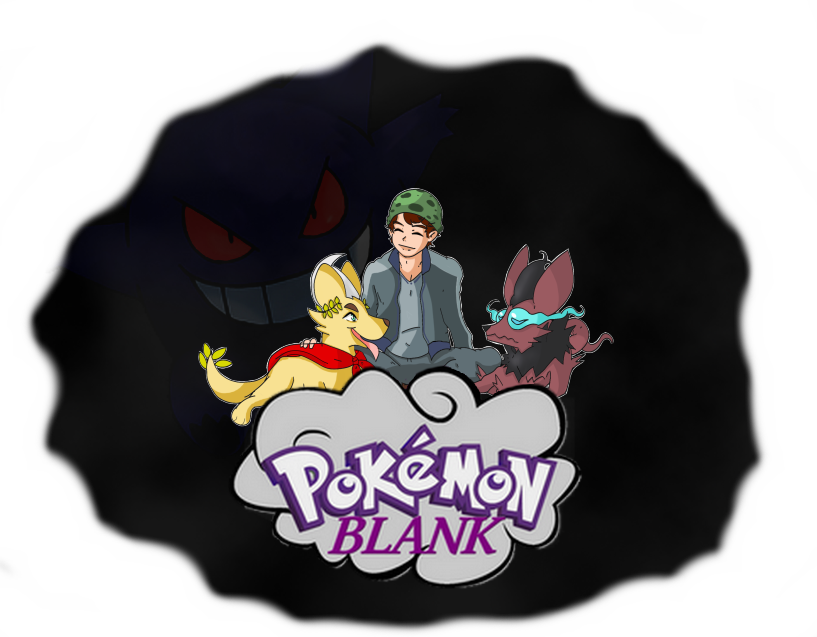 Hello everyone!
I'm happy to present the project Pokémon Blank! This project started during the summer of 2020. There is a playable demo (0.6.6) dealing with 7 chapters of the story as well as seven gyms, so feel free to have a look!​
The Arceara region was known in the world for its never-ending conflicts and civil wars. Throughout its history, it underwent countless cycles of revolutions and dictatorships. Until one day, a new revolution emerged and destroyed the opposition. A new government was formed and after a few decades, the region was able to get back on its feet, connect to the rest of the world and flourish as it has never done before.

Unfortunately, old minds, not ready to give up the power they once had, kept working in the dark on a plan to re-sink the region to a state where they could dominate the populations. One day, one of them was able to acquire new dark powers and decided to attack Shedinjir, a city situated on the side of the region, and take control of it. He started by brainwashing people who in turn, brainwashed their relatives. Once he got control of the leaders of the city, he officially declared war with the rest of the region and Shedinjir has been isolated ever since.

This game tells the story of a group of young adults living in the castle of this newly emerged dictator and set to become part of the new generation of Pokémon soldiers that will one day attack the other cities and help to take control of the rest of the region. Every day, they are being trained under unbearable conditions until they become cold machines. Luckily, before any of that happens, they decide they have enough and escape the castle.​
4G-style Pokémon game created using RPG Maker XP and Pokémon SDK.
The game is quite story-oriented. Players should expect to read a few dialogues, but we made sure to add plenty of opportunities for exploration as well!
A level cap is implemented and is determined by the number of badges. It will allow for a more challenging game, like Pokémon Reborn, as well as preventing the use of a single overpowered Pokémon. After reaching the level cap, a Pokémon will have a much harder time gaining experience.
A TV system was implemented to make the region seem more alive.
Some maps will be one direction only (see screenshots)
Works on Windows 10.
Language: English.
Playing time (version 0.6.6): ~20-25h.
Implementation of 18 gyms which will give access to the Master Events (a series of tournaments).
Several new weathers will be implemented.
No multi-player is planned.
The region map is incomplete
A lot of interfaces are still standard to PSDK.
You can download the playable version of the game from:
Demo
And here is the link to our discord:
https://discord.gg/WY7zZYRfyJ
It is still an early project, but you can already play the start of the adventure and will need at least 20 hours to finish it. If you want to help, join us on our discord page. In any case, enjoy yourself! Thanks for reading!
Screenshots​
Note that the Ice Gastly and Poisonous Milotic are not yet available.
Version 0.1.0
first demo.
two chapters of the story were implemented.
Version 0.2.0
revamped menu.
new chapter of the story.
TV system implemented.
Version 0.2.1
French language added.
Journal and trainer card switched places.
city of Bulbirisa improved.
Bug fixes.
emblems, new collectibles, have been implemented.
Version 0.2.2
An exterior was added to the S.S. Rose.
Big berry trees were added.
Difficulty options were partially added.
Version 0.3.0
A new chapter of the story was added.
The jungle dungeon was made way simpler.
The S.S. Rose puzzle was made optional.
French language removed
Version 0.5.0
Two new chapters of the story were added.
Gym implemented: 6
Some random weathers
Using Pokemon Studio
Plenty of fakemon implemented
Version 0.6.6
1 new chapter implemented
Gym implemented: 7
Credits​
If someone notices missing credits or even the use of forbidden resources (I really don't hope so), then make sure to tell us and we'll fix it right away.
(make sure to read this, as I actually forgot to credit someone once and this person didn't think about telling me about it.)
Engine related credits - PSDK
For now, refer to this link:
https://psdk.pokemonworkshop.fr/wiki/en/credits.html
Team Leader
Meterion
RPG Maker Users - Developers
Claudius
Musics - Sounds
Minski -
https://www.youtube.com/channel/UCAC14tq5RN5lbj1ebJsDZyw
Bulbirisa
Abredana
Boss
Laprameri
Aaron Krogh (RPG Maker musics)
Desert battle
Insidia (Demo)
Just Chill
Megaboss
My Friend
Upbeat Futuristic Area
Eric Matyas -
www.soundimage.org
Ambrosia Beach
Arrival
Bog Creatures on the Move
Cold Moon
Creepy Action
Creepy Hollow
Cyber Dreams
Deep Blue
Escape
Game Menu (also called "while the city sleep")
Lost Jungle
Misty Bog
More Freaky Things This Way Come
NightTime Escape v001
RPG Battle Climax 2
Sodium Vapor
The Concrete Bakes
Freesound.org
"Oidz Drop, Dramatic, A.wav" by InspectorJ (
www.jshaw.co.uk
)
"artificial heart (spatial).flac" by Timbre
"industrial-alarm" by Latranz
"cell phone ring in-ear" by muses212
"phone-pickup-click-22" by Adam_Joseph
"Tinnitus" by Klangkobold
"Meteor super fast whoosh" by Robinhood76
"Train Passing, Close" by InspectorJ
"Swoosh Punch" by GeorgeDiamond
"Tollbell" by Daytripper
"Evil laugh" by The Baton
Artists - Spriters - Graphics (specific Pokémon Blank)
Ali760 -
https://www.deviantart.com/dada994
Mahian23
Nos fire
ShatteredReality
Artists - Spriters - Graphics
Akizakura16!
Alucus
Anutter
Asdsimone
AutumnSpire
aveontrainer
BiueTempest
BoOmxBiG
ChaoticCherryCake
Chimcharsfireworks
Clara-Dragon
CrimsonTakai
Cuddlesthefatcat
DaNerdyDude
Dewitty
Drawnamu
Ekat99
Eurons
EpicDay
Erma96
ForeverXShoddyBattle
Flurmimon
Gigatom
Heavy-Metal-Lover
Hek-el-grande
Hydrargirium
InnerMobius
KageNoSensei
KaijuLover1954
Kaitoooo
KingTapir
Kisemaru-Kuruosuke
Klnothincomin
Kyle-Dove
Kymotonian
LarryTurbo
Lightbulb15
Magiscarf
Maicerochico
Maxewenx
Minorthreat0987
Morlock-Liam
NeffertityWATCH
Newtiteuf
NicoMts
NikNak93
piphybuilder88
PkmnAlexandrite
Platinum Tyrant
Poison-Master
Pokemon-Diamond
PurpleZaffre
Princess-phoenix
Rayquaza-dot
Rverah-duh
SageDeoxys
SirMalo
Shutwig
Spacemotion
Speedialga
SpriteMight
Steinnaples
Sylver1984
TeaAddiction
ThatsSoWitty
Thedeadheroalistair
Thegreatblaid
The-Red-eX
Thurpok
TyranitarDark
UltimoSpriter
Vazquinho25
Warpras
WesleyFG
WillowWhips
Wolfang62
xAlien95
XDinky
Xxdevil
Zetavares852
Testing
Claudius
Maveur
Minski
Moumou
ReintendoO
Language - Dialogues
Minski
Samdeman123124​
Last edited: