Play on android:
Discord:
https://discord.gg/C4Dyz42
#==========Introduction=========#
Get ready to jump for a new pokemon adventure in BANREL. Collect 8 gym badges and challenge the pokemon league. Meet different trainers.....catch lots of pokemons. But be aware of the evil team Trident.....make up your way to legendary Angelien. Visit different cities. Challenge your rivals. Help many peoples, and defeat the evil trident army. Make your self the very best like no one ever was. Solve various puzzles and make your way to your dreams.
expensive region, 'Banrel'
8 Gyms, Elite Four + Champion
A custom dex of Pokemon from Earlier generations+Exclusive Banrelian Pokemons!
An intriguing, climactic story with new, original characters
New custom regional forms/variants including: Dark/Fire Arcanine, Psychic/Water Swanna and more
Quests (Including optional side-quests)
The ability to see ALL encounters in that area from your menu
Purely GBA-Themed, with Gen 3 Styled textures,music and many new, custom remixes
The Battle Tower! (Our version of the Battle Frontier)
MORE FEATURES + SCREENSHOTS
Mystery Gifts!
MANY Easter eggs
Evil team- Team Trident
Professor- Professor Avinia
Champion- Hector
No Z-Moves or Gigantamax
Many side, optional areas where you can complete quests, find rare items and Pokémon, etc
New Legendaries and New pokemons and a brand new adventure!! Try it now
update.
For further information visit our wikia page:
View wikia page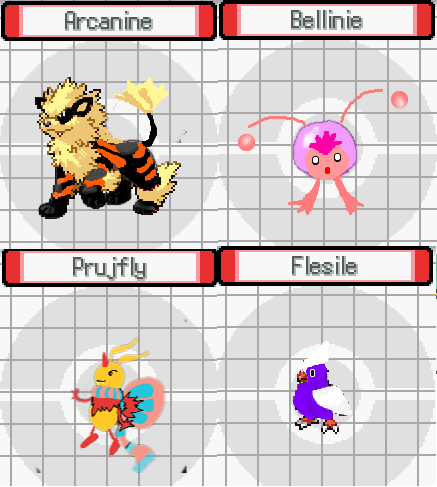 Credits:
Pkmn Angels
MADE BY Sweeto,Pokebu.
Elite Battle System.
by Luka S.J.
Scripting Utilities
by Luka S.J.
Better Fast-forward Mode
by Marin.
"Pokémon Essentials" was created by:
Flameguru
Poccil (Peter O.)
Maruno
"RPG Maker XP" by:
Enterbrain
All Pokemon are created by Game freak and Sc(sweeto)
Special thanks to Pixlr online editor
Ayantik Chakraborty( naming few characters)
And all others who helped
Ultimate Title Screens:
- Luka S.J.
Follow Pokemon:
- mej71
- Thundaga for the amazing tutorials to help create this
- My incredible friend Saptarsi for testing everything, making custom sprites and most of all putting up with me.
- Most importantly Gamefreak for making one of the best game series ever, they also own all of this so.
​
​
Last edited: