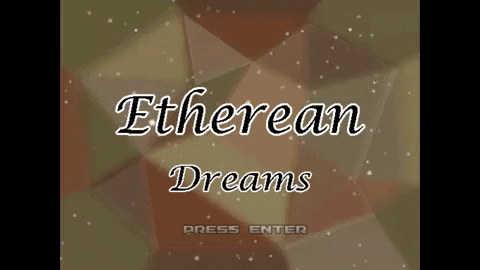 Etherean Dreams
Story:
Lethos, the rest of the region being obscured.
You and your best-friends are from Oriole Town in the region of Lethos. You three are applying to become the assistants of Professor Oleander, the charismatic Pokémon Professor of Lethos, and she gives you a Pokédex and a partner to kick your adventure off. Along the way, you will encounter the mysterious and dubious Team Wish, an organization advertising themselves as wish-granters at the cost of people's Pokémon, and discover the shrouded history of the Lethos region.
Screenshots:
Features:
* Etherean Forms of Pokémon
* New Mega Evolutions
* Some Fakemon
* Following Pokémon
* Animated Sprites
*Pokémon Marks
* Habitat Pokédex
* EBS
* Future Randomizer / Nuzlocke Mode
* In-Game Time and Hotels
* Autosave
Credits:
Helpers:
Scripts:
Maruno
Poccil
Boonzeet
Marin
Luka S.J.
CharizardThree3
LackDeJurane
Nuri Yuri
FL
JV
Umbreon
KleinStudio
Vendily
"Pokémon Essentials" was created by: Flameguru Poccil (Peter O.) Maruno With contributions from: AvatarMonkeyKirby<s>Luka S.J. Boushy<s>MiDas Mike Brother1440<s>Near Fantastica FL.<s>PinkMan Genzai Kawakami<s>Popper help-14<s>Rataime IceGod64<s>SoundSpawn Jacob O. Wobbrock<s>the__end KitsuneKouta<s>Venom12 Lisa Anthony<s>Wachunga and everyone else who helped out.
"RPG Maker XP" by: Enterbrain
Pokémon is owned by: The Pokémon Company Nintendo Affiliated with Game Freak
Graphics:
Evolina
Phyromatical
Zeo
The Red Ex
19Dante19
Alistair
Flurmimon
Leparagon
Crocovyle
WolfPP
KyleDove
Zerudez
TheGreatBlaid
Newtiteuf
Princess-Phoenix
Gigatom
Luka S.J.
Atomic Reactor
Poltergeist
DiegoWT
Akizakura16
Dewitty
Prince Legandario
Kymotonian
Alucus
Elle
Feel free to join the Discord by clicking below!
Etherean Dreams/PokéFriend Café Discord
We are also looking for spriters, artists, composers, and playtesters!
Link to recruitment post
​
Last edited: